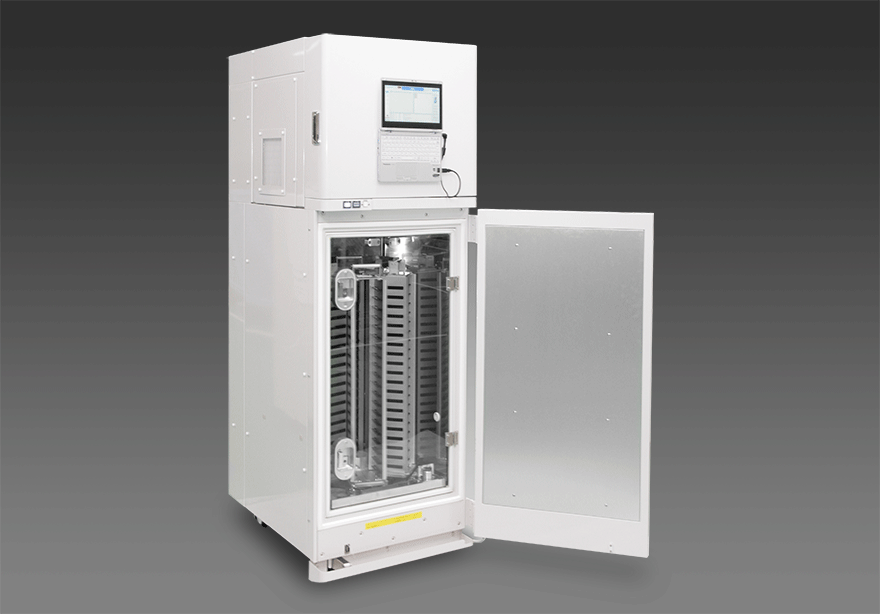 Automated Medium Exchange Integrated Cell Incubator: CellKeeper
Overview
CO2 incubator with automatic medium exchange function.Equipped with a plate/dish transfer robot and an automatic medium exchange system. Integrated with AsuRa® scheduling software allows complete automation.
l Standard dry heat sterilization function by direct heating
l High reliability, electric parts and drive system are completely isolated from high humidity cell incubation chamber.
l Carousel type turntable, allow up to 48 plates per culture batch.
l Carousel driven by magnetic coupling motor, interior of cell culture chamber is flat and easy to clean.
l Plate enter and exit through shutter system, minimize incubator environment fluctuation during loading/ unloading the plate.
l High medium exchange throughput 16 dish / hr
Main specification of product
Dimensions

W800 x D1100 x H2050

Air Cleanliness

ISO 5

Shell

Stainless Steel

Weight

350 kg

Storage Capacity (φ 100 Dish)

120 dish

Throughput

≧ 16 dish / hr

Number of Medium

1

Medium Cooling Storage Unit

Storage Temp

2 ~ 8 ゜C

Storage Volume

Max 2 L

Temp. Control Medium Supply Unit

Supply Temp.

RT ~ 35゜C

Dispense Unit

Dispense Speed

100 ul/s ~ 1000 ul/s

Dispense Volume

100 ul ~ 500000 ul

Accuracy

≤ CV 1%

Aspiration Unit

Tip Spec.

384 Tip Box x 1

Aspiration Speed

100 ul/s ~ 2000 ul/s